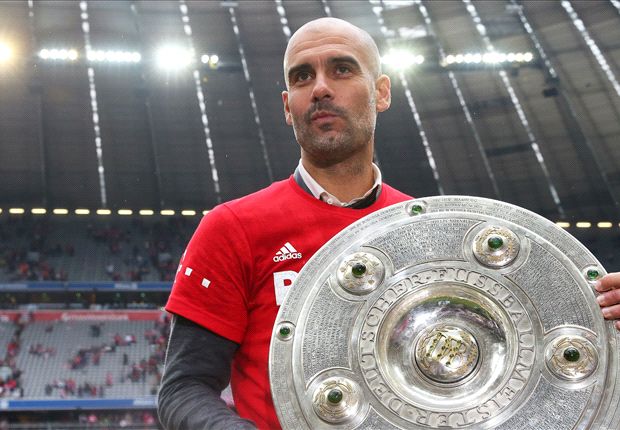 Four days after crashing out of the UEFA Champions League semifinal for the third straight season, Pep Guardiola's Bayern Munich team have something to celebrate after a 2-1 away win against FC Ingolstadt ensured they are officially crowned Champions of the German top flight league for the fourth consecutive season with one more game to go.
After failing to secure the trophy last week courtesy of a 1-1 draw against Wolfsburg, the Bavarians just needed a win to get the title and they did exactly just that although not in the most impressive of ways. Star striker Robert Lewandowski opened the scoring from the penalty spot in the first half after Franck Ribery was fouled in the area, the striker went on to show his appreciation to teammate Thomas Muller who allowed him take the kick in order to improve his chances of being the league's top scorer.
Lewandowski grabbed his second of the night later on after meeting a fantastic Xabi Alonso through ball to fire home, giving Bayern a comfortable lead but Ingolstadt were not relenting on their efforts to delay the Bacarians' party and almost got a goal back few moments later however, Manuel Neuer was on hand to keep things the way it were.
Lewandowski had a chance to get his hat trick in a one-on-one situation with Ingolstadt's goalkeeper but couldn't finish off the chance and they were punished later on as the home team were awarded a penalty 5 minutes before halftime which they converted to make it 2-1 hence causing a mini panic in the hearts of Pep's team who needed a win to appease their fans.
The game ended that way to ensure Bayern get their third Bundesliga title under Pep Guardiola and their 25th in history. It would've been the same had the game not ended in a win for them after closest rivals Borussia Dortmund were stunned 2-1 by relegation-threatened Frankfurt.

[post_ad]