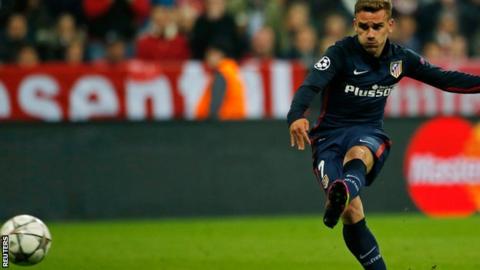 Diego Simeone and his players will be having the party of their lives after they secured the Champions League final spot for the second time in three seasons despite losing 2-1 to Pep Guardiola's Bayern Munich. It was an exciting game at the Allianz Arena that saw a lot of drama, a freekick scored and two penalties saved.
The Bavarians couldn't get their third goal of the night which would've been enough to get them into their first final since 2013. Bayern Munich started the game brightly, dominating from the first kick and created a lot of chances with Atletico Madrid looking disorganized. The opening goal came courtesy of a free kick by Xabi Alonso from 20 yards that deflected off Gimenez to beat the inspired Oblak, that levelled the aggregate score, 1-1.
Bayern's dominance continued and they got the chance to make it two-nil minutes later after Jose Maria Gimenez was at fault again to bring Javi Martinez down in the box, conceding a costly penalty. However, he would have to thank goalkeeper Jan Oblak who made a fine dive to parry Muller's spot kick whilst also saving the rebound.
The pressure continued and Oblak did well to keep Atleti in the tie until half time. Atletico started the second half far better than they did in the first and got the equalizer with their first chance of the half. Torres got the ball close to the halfway line before setting up Griezmann with a fantastic through ball for the Frenchman to slot home in a one-on-one situation against Manuel Neuer.
The equalizer meant that Bayern will have to score at least two goals to progress and then Pep Guardiola brought on youngster Kingsley Coman, a substitution which affected the game slightly in his favour as Bayern went into the lead minutes later through Robert Lewandowski. David Alaba made a fantastic cross to the far post and Arturo Vidal did well to win the header, setting up Lewandowski to nod the ball into an empty net, 2-1 and Bayern would qualify with just one more goal.
Referee Cuneyt Cakir made a horrible call minutes later after he pointed to the spot in what replays clearly showed that Torres was fouled outside the area. However, justice was served after Manuel Neuer saved Torres' kick in a similar fashion to Oblak's in the first half.
Bayern still needed a goal and they attacked Atleti with full force, David Alaba almost won it with a shot from outside the area that was deflected by Thomas Partey but was saved superbly by Oblak who was no doubt man of the match. Atletico Madrid held on until the final whistle to deny Pep Guardiola his first Champions League final with the Bavarians.
[post_ad]